It has been a whacky season this year! Both from changes within our team, as well as those not within our control, this season has been like no other. Here is a highlight of our team's progress through this past season.
During the off season, a core group of team leaders began meeting in the off season to restructure the club. We decided to create a comprehensive set of laws for our team to abide by, establishing rules for everything from accepting new members, deciding who will lead the team, designating positions, scheduling events, and so much more. We hoped this structure would introduce greater involvement and accountability among the more senior members of the team, and give structure and guidance to new members. After many involved meetings of debating, writing, proofreading, and deliberations, we came up with out 20 page document of the bylaws.
We had our first all team meeting in August. We put the bylaws to a vote, and got it ratified. We also created a number of off season projects, including recruiting, build training, CAD lessons, and outreach. By the end of December we had a pit design mostly completed, a business plan in the works, many outreach events done, and about a dozen new members recruited.
The season kickoff began on January 4th, beginning an arduous yet rewarding 8 weeks of building. We dedicated the first week to strategizing, and began gravitating to a few concepts for our robot. The first breakthrough was the "Cheeto", which was the first item we began prototyping. It was our solution of a storage and shooting mechanism for the power cells. We also large effort early on to complete the field to use to test prototypes and eventually drive practice. Through the next two weeks, we put a lot of effort into drive base design. We had a serious look at an omnidirectional drivetrain design, but finally decided to keep with a more conventional drivetrain for this season. We created a CAD model of our robot, and began the process of coordinating machining. The Cheeto went through around 3 wood prototypes before finally committing to metal, which was very important to ensuring it would work the first try. Through the next few weeks, we put in long hours meeting most days a week, and on multiple occasions staying close to midnight to get the robot completed. We came up with innovative electronics module, created a sleek A-frame design, and finished assembling the Cheeto. Unfortunately, after lots of effort to resolve various design problems, we had to abandon our hang mechanism for weight and mechanical issues.
In addition to all our build progress, we also made tremendous progress in business. We finished making our business plan, a 30 page document describing our comprehensive approach to outreach, team goals, finances, structure, and much more. Despite the busy time, we doubled down on outreach, helping to host the FLL state championship, volunteering at the FTC state championship, and hosting booths at a number of community events. In addition, we expanded our Riley Robot book project, creating new books and adding lots of supplemental materials.
Within only a few days from our flight to the Pacific Northwest competition, we received the unfortunate news we would not be allowed to travel due to COVID-19. We spent a few days off to recuperate from the long hours we had put in the past few weeks, and met again Thursday, the day that we would have done last minute packing for travel. While we were all disappointed to not be able to compete, we had news crews come, and did a news story on our team that aired that night. While not the ending we hoped, it was still a tremendous season.
Our season was not over yet, however. In mid April, the Pacific Northwest would be hosting a virtual ceremony for Chairman's winners. That day, we met via Zoom to chat and watch the ceremony. We were astonished when they announced The Nerds of the North had won the Chairman's award for the Wilsonville event! We were honored to have received such an award, and left with a refreshing end to the season.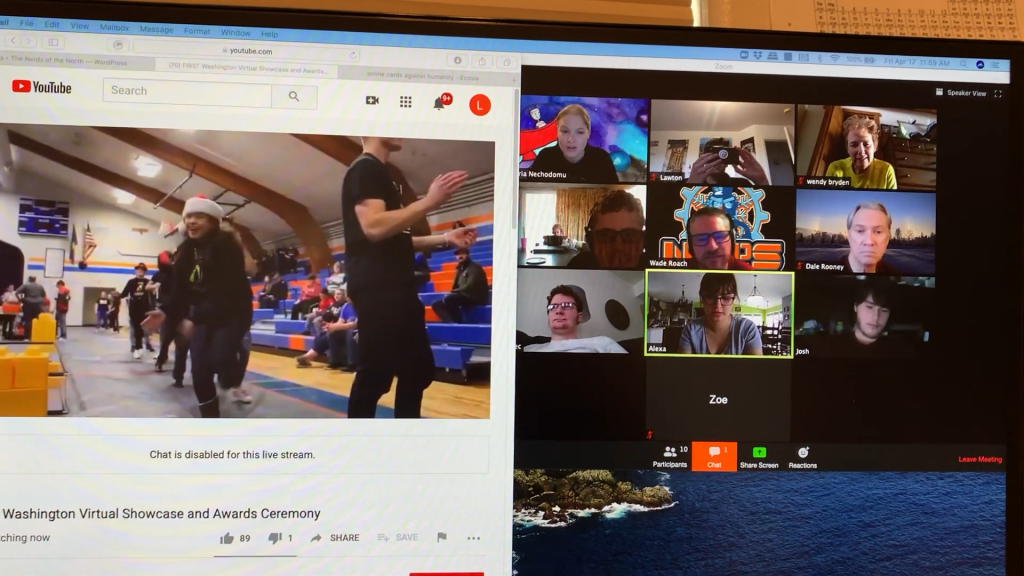 Since then, we have continued to meet weekly via Zoom. We have created ambitions plans of the off season, and been hard at work to complete them. We also had our first leadership elections under the new by-laws, which worked out very well. Furthermore, we received news that the 2021 season will be a modification of this years game, so we are excited to be able to get back to working on the robot once it is safe to do so again.