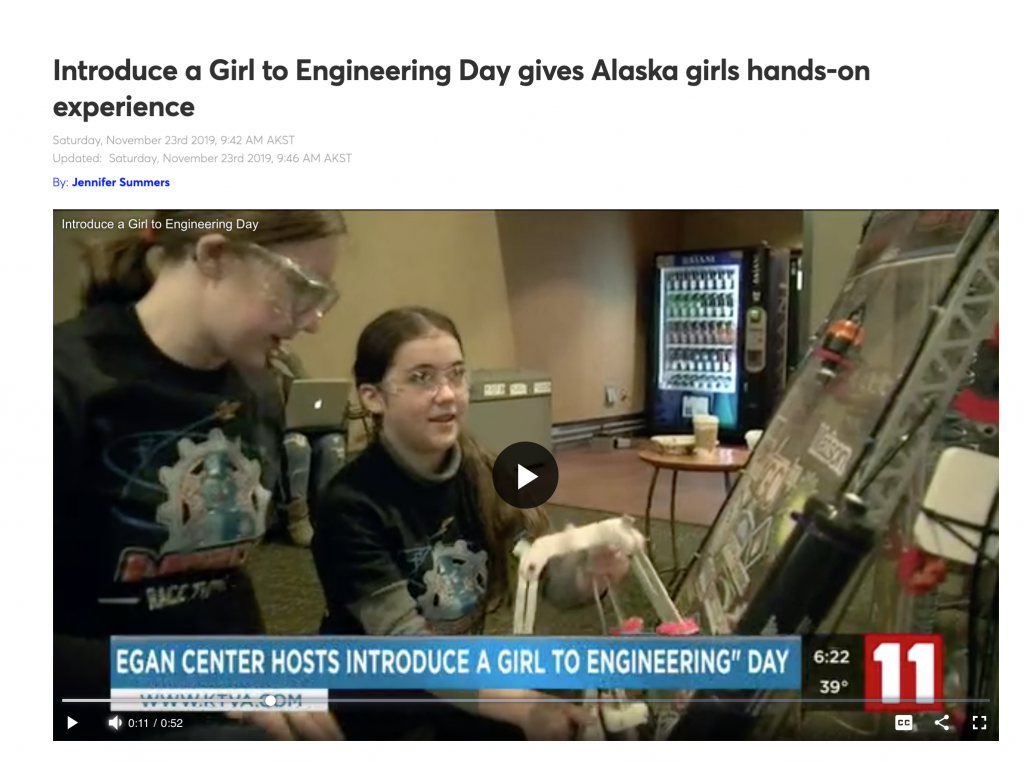 On November 22, we had the honor of participating in the Introduce a Girl to Engineering Day, hosted by ExxonMobile, the Girl Scouts of Alaska, and the Anchorage School District.

The event took place at the Egan Center and drew over 120 middle school girls. We got to drive our robot around and talk about the FRC team and FIRST programs with students, many who seemed very excited about the idea of robotics. Nora and Maddie, two of our team's newest "Nerdlets" got the opportunity to jump in with both feet by being the only two student staffing this event (with mentors, as well, of course).
In the morning, while we were displaying the robot, it lost connection to the drive station and we spent time troubleshooting while continuing to answer questions about the robot. Once we fixed the robot we improved our driving by driving it up and down the halls. We ran into several more disconnection issues throughout the event, which helped us learn a lot about how the robot works. We had to practice a lot of troubleshooting and perseverance. As two of the newest members on the team, this was a great experience to get our hands on the robot and face some real-world robotics hurdles.
We also got to attend some of the sessions and learn about different engineering aspects through the hands-on activities offered at the event. Two different news crews showed up and were intrigued by the robot, and interviewed us. Overall, it was a pretty great day, with so many middle school girls showing interest in robotics, as well as local community members and media. Not to mention, two of our Nerdlets gained a ton of invaluable experience.
Check this out! We're so glad some shots of our robot and Nerlets hard at work made it into KTVA's coverage of the event