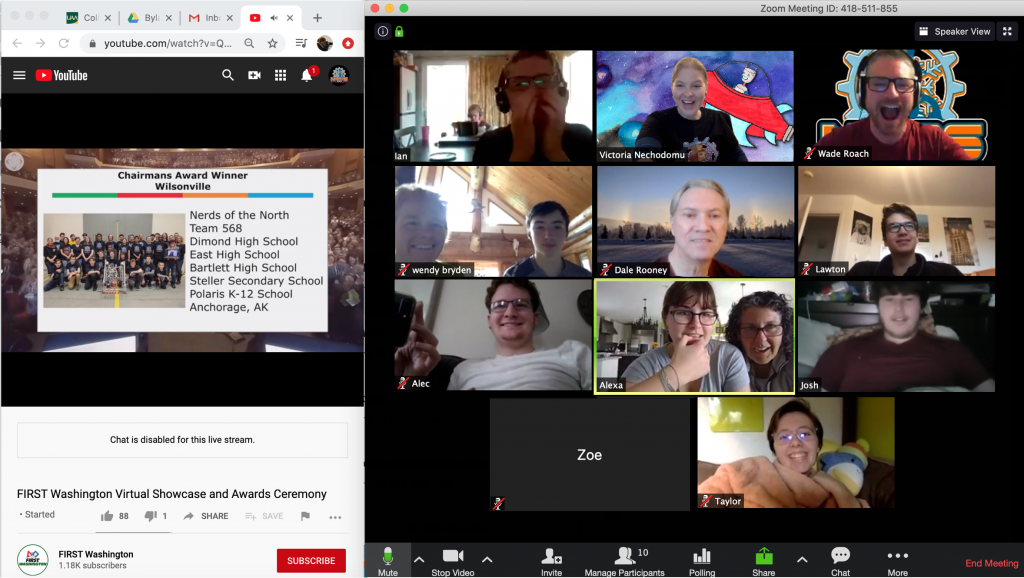 FIRST Washington held a virtual ceremony this Friday to celebrate team's accomplishments even though there was no competition. Teams still submitted chairman's videos and essays to compete with and they were still judged. Our team got on a zoom call and watched the award ceremony together. They would announce some awards and also videos and advertisement. It was really fun for the whole team to be on a zoom call together as get to react together.
First was the Deans List Awards and sadly our team teammates were not selected as semi finalist. We all believe they deserve it and gave them lots of love and encouragement. Next was the Woodie Flowers Award and we all held our breath hoping for Coach Roach to be announced. Roach did not get picked but he said he was happy anyways because we wrote him a very sweet and emotional letter. Roach will always be a winner to our team because he is an amazing and dedicated coach. We will be rooting for him to win it next year!!
They went on to announce FLL and FTC State Championships. Next was the moment we had all been waiting for… the Chairman's Award. They announced winners in each District event within the Pacific Northwest. All of a sudden the Wilsonville event comes up and we won!! We were all shocked and didn't believe it. Coach Vicki's was lagging and didn't see it until about a minute after all of us so she didn't believe it! We were all so so happy! This was a first for our team and we are all so proud. We wished we could go in to compete with this award; we are unbelievably proud and shocked that we won.